This is not a complete review of the product. 
It is rather my story that should alert about the lack of serious of Dasung and make you think before purchasing it. 
I don't tell that the product is useless but it is really not worth the actual price…
About that matter, if you really want to buy the item despite my story, I propose to sell my item with more 25% off : 650$.  
I almost not used the item. Honestly the screen was turned on and connected not more than 60 hours.

Some months ago, I purchased the Dasung E-Ink Paperlike Pro 13.3″ Monitor. 
I first bought via indiegogo.  Multiple weeks are passed and I never received the product. 
I managed to cancel my contribution to this indiegogo project as Dasung proposed me to buy directly the item from their website : http://dasungtech.com/english/detail/id/220

I did it and it was a great mistake because Dasung doesn't keep its promise that you can read on its website :
We offer refunds or exchanges if there is a quality problem. But the return of non-quality requirement are not accepted.
You can read it below :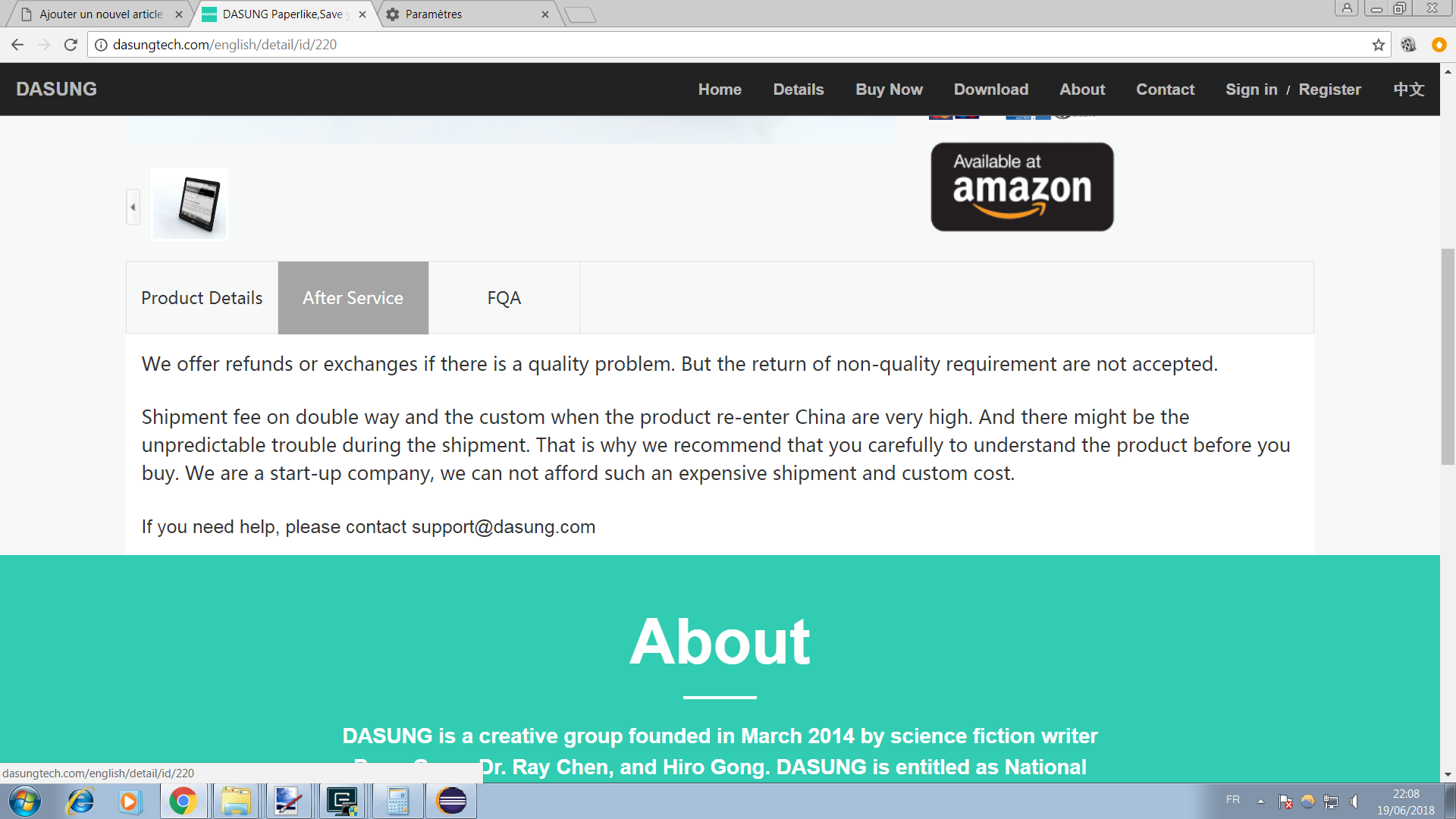 So I ordered and  received rapidly the monitor. 
Broadly, the screen is really correct about its displaying: the refresh rate is acceptable but only to read or write a document.   

But the screen has also at least two very annoying defaults :
1) the screen is a E-Ink but doesn't have any backlight or feature to provide a non invasive light. It will result in getting eyes tired if you don't have a way to provide a weak light towards the screen as you use it in not very strong brightness conditions.  I knock together a facility to improve this lack. It is not really perfect but it allows to not explode my eyes as soon as the sunset starts.  
You can read one of the comments of contributors on indiegogo about that :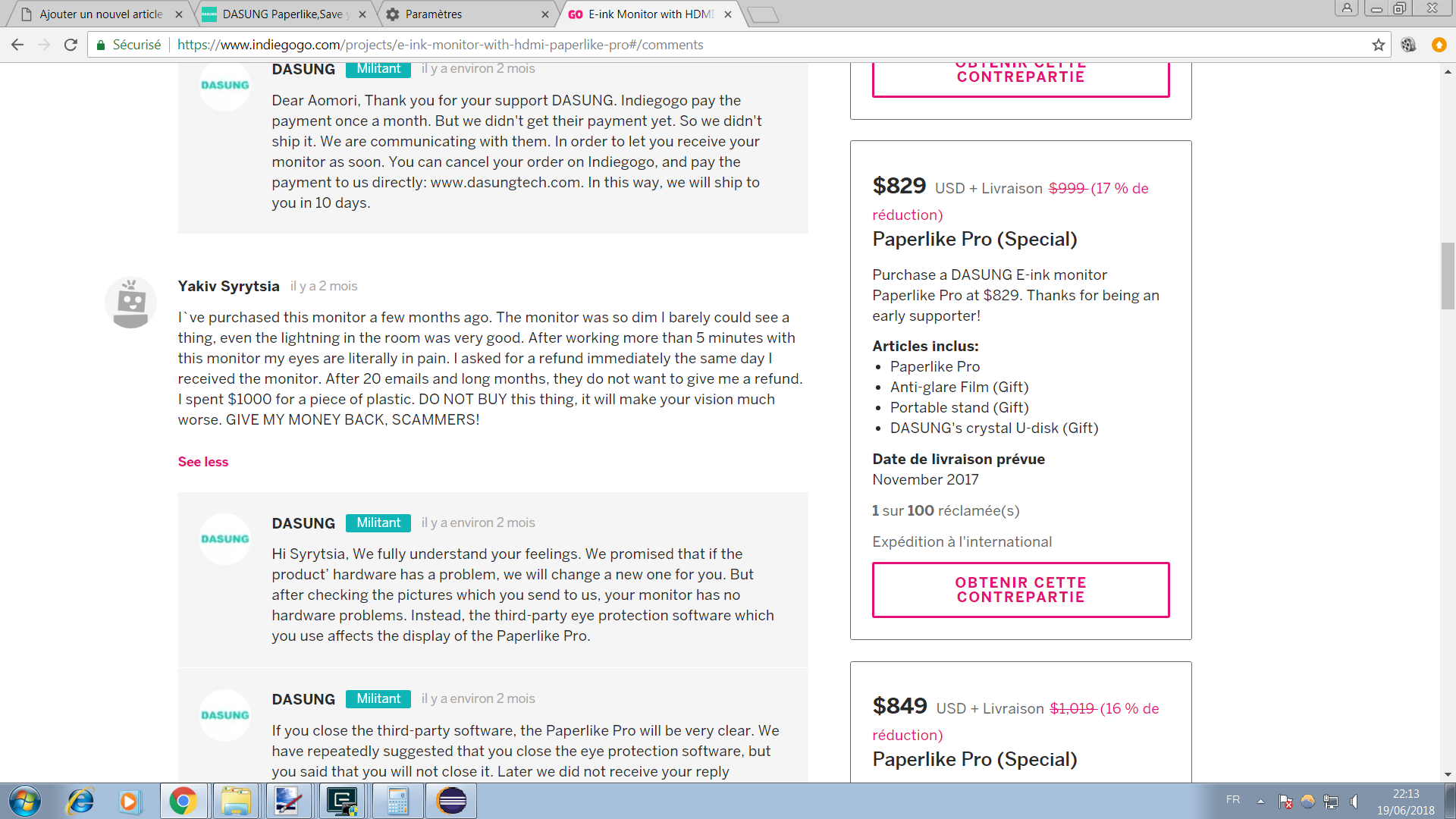 2) The big issue I noticed : this monitor doesn't behave as a real computer monitor as you want to connect another monitor on the computer.

The monitor has a limited size (13,3″), the colors are just black white and derived from them and the refresh rate is just acceptable to read or write texts.
Ok, these are in the specifications of the item.
So you will encounter some limitations as for example you want to :
– distinguish colors 
– use an application that displays many information on the screen
– watch videos
– play games

But something that is not written in the specifications is that you cannot naturally switch between two monitors as you use the Dasung monitor.  
Concretely, with two LCD monitors connected to your computer, in Windows 7 in the display settings, you can choose the option « Show Desktop Only on 1 » to display only on a specific monitor and as you change your mind because you want to display only on the other monitor you can use the « Show Desktop Only on 2 » option and it is done !
You just need to click on one button : no requirement to unplug and plug 3 cords. 
But this doesn't work for the Dasung E-Ink Paperlike Pro 13.3″ Monitor.  
At each time I need to switch from the LCD monitor to the Dasung monitor I need to unplug because I have to plug all cords related to the Dasung monitor in a specific order.  
Here is the procedure provided by email by Dasung :
Dear Sir,
Please connect it like this
1, mini-HDMI to Paperlike Pro
2, USB to the PC/charger
3, HDMI to the PC

Here is a schema illustrating the issue :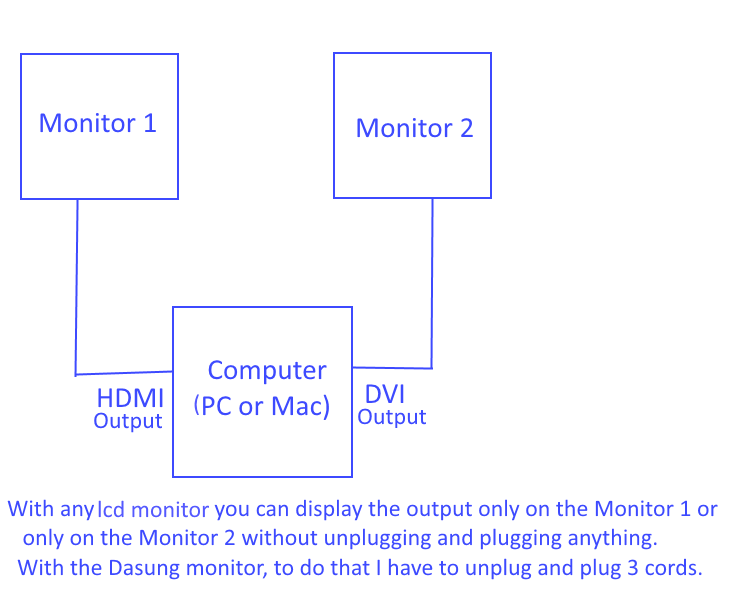 I need to switch maybe at least 5 to 10 times a day. Doing it so many times is really a no sense. 
Besides it also may injure the materials, not the first days but making it 10 times a day 20 days a month during 12 months means unplugging and plugging 2400 times the 3 cords.  10*20 * 12 =  2400
With so many manipulations, odds are good to provoke a material injury.

So I contacted Dasung so that they provide a better solution.
They ignored my requests and repeated always the same thing : unpluging/pluging will not cause any issue and they ignored my issue about the fact the manual operations performed multiple by day is not practical at all. 

I insisted to have an answer but as Dasung cannot or will not keep its promise, they only don't answer to your emails. 
So I answered Dasung to get back the item if they cannot solve my issue.  
The refund request woke them but they didn't propose to make a refund and to get back the item.  
After multiple emails, they proposed me to try to find a solution to allow to switch from the LCD to the Dasung without unplugging/plugging all cords.

About 4 weeks later I contact them to have news about the issue. I never received an answer from their part. Some days later I did a Paypal dispute to try either to get back my money and to return the item or to get a partial refund and to keep the item as the item is really correct but with these limitations and this limited after service, it doesn't deserve such a price : close to 1.000 $ with fee included.
The Paypal dispute is in in progress but unfortunately I will probably give up the Paypal dispute as Paypal asks me that an authority affirms that the item has a default according to its specifications. 
How to get such a thing ?
I sent to Paypal the manual Dasung and the contradictions in the facts  according to the Dasung emails but it doesn't seem what Paypal wants to.
I think that Paypal disputes are better designed to handle the cases of item not sent or of item that is not which one that was ordered.
---

To summary : if you have a technical issue or an important limitation with the Dasung E-Ink Paperlike Pro 13.3″ Monitor, I don't advise you to hope that the Dasung team will improve the product or the drivers and also really don't hope that they will keep their promise :

We offer refunds or exchanges if there is a quality problem. But the return of non-quality requirement are not accepted.

Indeed, I encountered a quality problem about the double screen that they just ignored and considered as a normal thing.
So I advise to think several times before buying a product that with fee can cost you about 1000$. 
It can be fine for you but if you have a problem with, you may consider it as a scam as the after service is very limited and it is not worth the price.
But even if the product suits for your need, you don't have to forget that there is not any warranty for this product ! 
1000$ + no warranty +  bad client service : it is terrible enough.
I think that with the lack of warranty and the lack of support of the Dasung client service, the product should not cost more 700$.